inFAMOUS: Electrify your Karma
A game that has catch me is inFAMOUS. This game is a bit old (2009), his main character, Cole McGrath, suffers an accident that provides him some powers related to electricity. A game with a huge free scenario (Not as huge as GTAV, but quite acceptable) where you can jump and run at will. Cole will have to seek the truth about the accident along with his friends and make some hard decisions.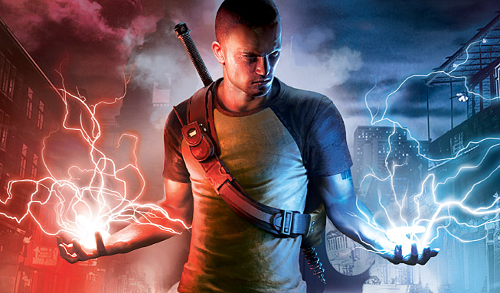 What makes this game interesting is that the story is technically divided in two. You will have Red and Green missions, corresponding to Good and Ba, which will define your Karma all along the game. This will not only change the ending, but will block the opposite missions.
The ideal is to clean all the city doing the yellow missions, that way the "bad guys" presence gets a bit low and it's easier to walk the city and find the hidden items. Doing missions and collecting items will give you new powers, and you can also buy improves, which helps a lot. i was stupid enough to finish the game without buying any improves, so… is time for a round two armed as much as I can.
I know there are people who don't like this game, but I really liked it. Effectively, there are repeated missions at different zones, however, that doesn't makes them boring. I finish it with Good karma, so I need to play it again and finish it with Bad karma to finally obtain all the remaining trophy's. I have a weakness for Good actions, it happened the same with The Walking Dead (a really boring game….)
Now comes the important question, if you have played it… Which karma did you choose?
---
Help tatica and donate with paypal!