The story behind my pictures
People always ask me how do I take my photos and to be honest, I had never made an analysis of what I do, but I think that today is a good day to open the window of my creative process a bit.
When I take self portraits (selfies) or photos of other people, everything has to start with a thought, an idea or a song. With selfies, I have tried many times to take 365 but the truth is that, for selfies, it is a more personal thing than just take a photo by obligation. Today is one of those days when I wake up with an idea in my head and until take it, it will stay there. Last night before take off to bed, I was inspired by a song that I heard by mistake, Skinny Love by Birdy and indeed, the letters are usually what impact me.
In this case, and although I'm still a bit sick and should not be going out, the idea came looking at the field in front of the house, which is pretty peaceful within all the craziness that exists in my country. When taking the picture, the place has to be seen or imagined first, then comes think of a pose and a potential outfit for the image. Then tones, lighting and improve the picture … and yes, everything is done in my mind in seconds.
Once you've taken several pictures, it's time to process. It is not as precise as I would like, there are certain things that are always there in the way I do my editing. I think that's what people call "having a particular style." I used Darktable for this photograph, which has become a tool that I can't miss in any of my photographs.
Once the picture is complete comes the most most difficult task; adding a title and description. Usually the picture is already has a base idea, however, is just an idea and I have to set a name. In this case, listening to the song a thousand times during the editing process helps me to finish this part. I think that in the end, the whole process is summarized in try to send a message or get out something that's inside me and than words can't do. There are thousands of writers, photographers, singers and others who use art as an escape. My photos, my selfies, have become a way to express to the world what I can not say in words. I hope you enjoy this and my other pictures, these are an expression of who I am.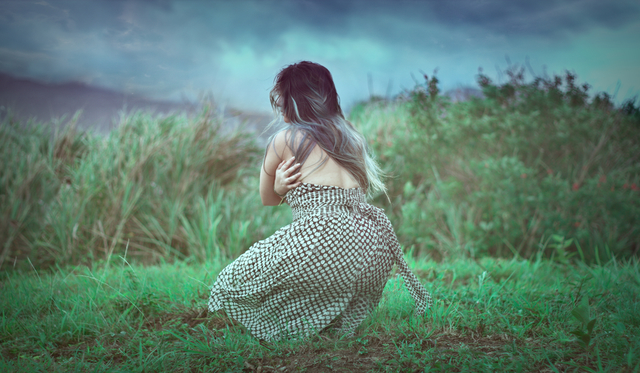 ---
Help tatica and donate with paypal!