New FLISoL site (and zip download) [:]
As I promised … finally renewed the FLISoL-Venezuela website. This is a wordpress in its latest version (which I had to reinstall because whoever was in charge of updating, didn't do it …) and for this site, we built a theme, not customized, all ranged from 0 :)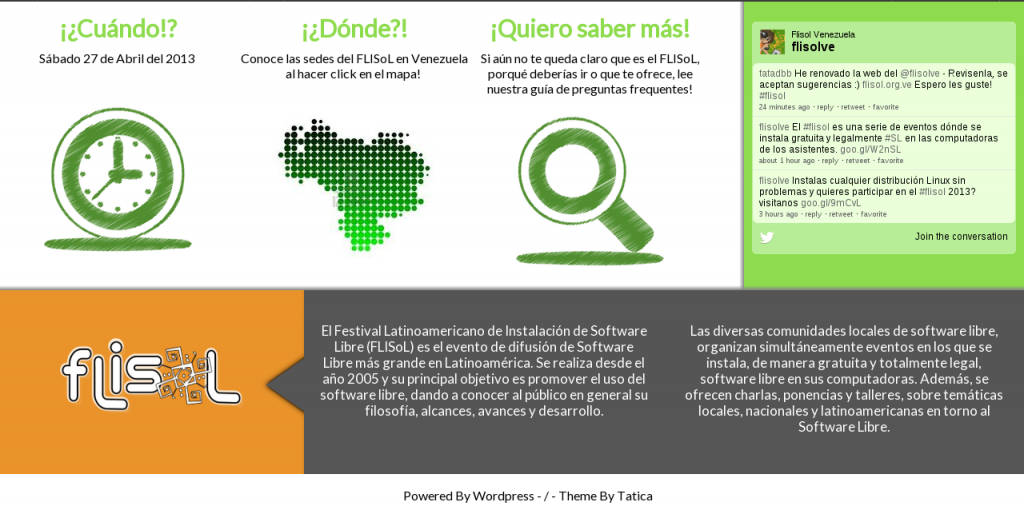 Also, added a plugin to manage twitter called (a) offical Twitter widget which is very easy to customize, Page-list to list the cities and to manage users and permissions Role scoper , this plugin will allow to each coordinator to modify only their city page, avoiding previous conflicts with other sites and coordinators.
Also, in the good mood to share, here is the zip. of this theme. It is designed to use only pages, and the home page consists of several widgets that need to be filled. There is no demo data, however, inside the .Zip you will find a simple pdf that explains how to fill, it so it looks like the demo.
I hope you like, use and participate at FLISoL, in each of their cities! We will be waiting for you :D
Flisol Theme – WordPress: https://mega.co.nz/#!Bg0CwLYa
[:]
---
Help tatica and donate with paypal!