BikeTour and movies, knowing even more from Guate
Despite we went to sleep really late, we got up early to attend the last bikeTour and day of GuatePhoto. We gather at Colon Square at Zone 14 and at 8am the bikes that Guatemala Government happily provide for this activity finally arrived. Since we got there first, we got really fast our 2 bikes with basket, only giving an id with picture. The basket was super comfortable to place our personal items.
Once we got our bikes, went to a station where in case we need to fix the seat or anything, they will do it. i must be honest, I had a lot of years without ride a bike and was a relieve that we had some time to practice before depart. i didn't felt off from my bike during all trip, however, I wasn't the best from the group. Like they say, you will never forget how to ride a bike.
After an over 75 people group gather, we left from Colon Sware at Zone 14 to La Fototeca at Zone 4, with a big group of police on bikes and motorbikes. There, we saw several expositions from those who sent their portfolios to the contest organized by GuatePhoto. I knew some of this expos since I saw them the day I came for the print workshop, however, Rich had a great time watching all the pics for the first time. There was a lot of people with us that didn't knew anything about photography, so having art/design/photography students with us like guides was awesome, and let everyone enjoy the experience.
in this Zone, Rich told me about the TrovaJazz, a bohemian place that we must visit. There was an expo that I didn't saw, and more than the expo itself, I was impressed by the place, I'm talking about Centro cultural La Casa del Aguila (the eagle house), a gorgeous house fix to become an expo room and held some other activities, if you have a chance to visit it, just do it.
Since this was the last day at GuatePhoto, tshirts that were at 45q were on sell at 25q, and also pins that were at 5q, only cost 2/5q… and stickers, were free! i also got a Rara magazine (which is awesome) and some Ki juice for free. I don't know if was the Guatemala people hospitality or an extra help knowing that we were foreigners, but the gesture and kindness from GuatePhoto people was something completely amazing.
Riding back our bikes, we move to Guatemala downtown at Zone 1, the 6th, as they call it. We saw some other expo there and watch how is Guatemala on a regular Sunday. It was really interesting to see that most people wears folkloric clothes, it's something gorgeous that don't see everywhere. Some had the chance to ate a snack and then we ride back to the place we start to end the tour.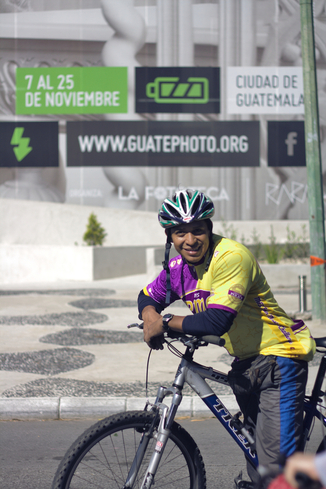 Once we arrived to Colón Square again, we return the badges and the bikes and retrieve our IDs, we took a short walk inside the Fox/NatGeo building and… WOW! was amazing!!!. At the next square they were having a special activity with pets, so we had a time to plat with them and head back home.
Once we arrived to the apartment, we cook a delicious bbq that is call "puyazo", chorizo, ribs, salad, fries and arepitas. Richy has become an expert cooking bbq since he has been doing ne almost 1/2 times a month. After this, I took my regular nap (that I wasn't able to take since I arrived) and then, we went to the Oakland mall again to see a movie and buy a new phone for me, since my old Milestone died before the trip :(
Best way to buy a ticket is to NOT line up, just go to the station to the left of the candy shoop and buy them at the ATM. It's fast and you will never have to line up, and you can choose your seat. We decided to watch Hotel Transylvania on Theater Movie 3D… WOW, I can't go back to a regular movie back at home… you have t see this. The movie was great to.
Now, I bought a Sony Ericsson Xperia Ray pink with a Tigo line. Buy the line was super easy. You just get into the office, ask for a number and they call you inmediatelly, pay with cash/card/whatever and presto, you have your chip. Plans are completely fantastic and I must confess that, even if they were having problems with the payment system, did everything in their hands to solve it and take care of us, we felt completely comfortable despite the tech issues.
Nte: There are a lot of promotions with Tigo, so I got one called "triple balance". With only 70q I got 210q so I doubt I will have to put more money on my phone during the trip. Be aware and take your promotion on time!

Once we were heading out the Mall, we visit a shop call De Museo, which has EVERYTHING you might want to gift. is one of those stores that has from frames, swords, clothes, and more. If you're thinking on send a gift to someone, visit this store, it's a must!
---
Help tatica and donate with paypal!
bici
,
bicicletas
,
bike
,
casa del aguila
,
cine
,
guatemala
,
guatephoto
,
la 6ta
,
la fototeca
,
movie
,
oakland mall
,
paseos
,
plaza colon
,
tigo
,
viajes
,
xperia
,
xperia ray
,
zona 1
,
zona 10
,
zona 14
,
zona 4