Hoy termina la etapa de bocetos del wallpaper alpha de F16!
Hola diseñador, artista y gente creativa!
Este es un recordatorio de que hoy es nuestra fecha límite para la etapa de bocetos concepto para la realización del wallpaper alpha de Fedora 16 (el cual te recuerdo, se llama Verne). Siguiendo con nuestra agenda, la próxima etapa será "Colorear", y en esta, vamos a dar color y vida a estos bocetos (tantos como podamos siguiendo nuestra lista de tareas antes dispuesta – ver más abajo)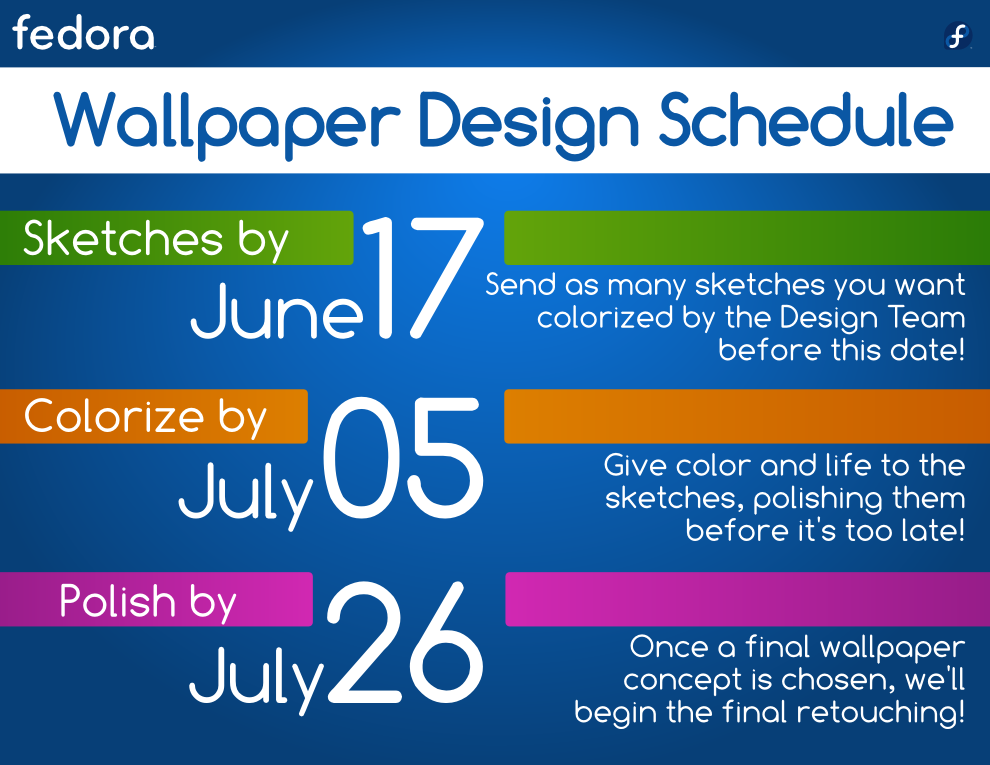 Además, les recuerdo que en nuestra última reunión, acordamos dar prioridad a tres conceptos para la siguiente etapa. Estos son:
=== 1 .- Nautilus: desde debajo del agua ===
Obra de arte relacionadas hasta el momento:

=== 2 .- Nautilus: vista lateral + medusas ===
Obra de arte relacionadas hasta el momento:

=== 3 .- Isla Flotante / Helix Isla ===
Obra de arte relacionadas hasta el momento:

Recuerda que esto es sólo una agenda que nos guiará para terminar en la fecha y tener nuestro fondo de pantalla a tiempo para el alfa. Alentamos a nuestro equipo para tratar de seguir nuestra lista de prioridades (que no es exclusiva) y tratar de completar cada fase en el tiempo esperado, y así, poder utilizar nuestro tiempo libre en terminar el resto de conceptos impresionantes que hemos recibido hasta ahora!
Si desea ver más bocetos y dejar algún comentario, por favor, únete a nosotros en nuestro artboart y el deja tu comentario, o pasa un rato por nuestro canal de IRC #fedora-design en freenode… una vez más, gracias!
http://publictest04.fedoraproject.org/artboard/
---
Help tatica and donate with paypal!