HOWTO: Tickets de Patrocinio de Fedora
Muchas personas quieren asistir a eventos y no tienen los recursos necesarios, o quieren realizar eventos y/o jornadas en sus localidades y quieren un poco de ayuda extra para tener un buen contingente de material publicitario. Aquí es donde todo lo que has hecho por la comunidad se devuelve. Fedora con la ayuda de RH, tiene un presupuesto anual dividido en 4 con el que las diferentes regiones pueden contar para fortalecer la presencia de Fedora. Latinoamerica no es la excepción. En esta oportunidad, contaré específicamente la forma de abrir un ticket para solicitar apoyo económico para asistir a un FUDcon.
Ahora bien, necesitamos un poco de tu ayuda para ayudarte, por lo que es importante que abras un ticket en el sistema de Fudcon Planning. comentaré por pasos que debes hacer.
Nota: Recuerda que debes haber firmado el CLA y tener una cuenta válida en el FAS account para tener acceso a todos los servicios de infraestructura de Fedora.
Paso 1: ¿donde abro el ticket? Debes ir a https://fedorahosted.org/fudcon-planning/, loguearte con tu cuenta FAS y leer detenídamente lo que la página indica, a fin de que conozcas la mecánica. Para quienes no hablan inglés pueden solicitar ayuda en el IRC o en las listas de correo (o como comentario en este post).
Paso 2: Abrir el ticket: Debes dar click en el enlace que dice : "Fill out this ticket (llena este ticket)" que se encuentra en la parte inferior. Eso te llevará al ticket como tal.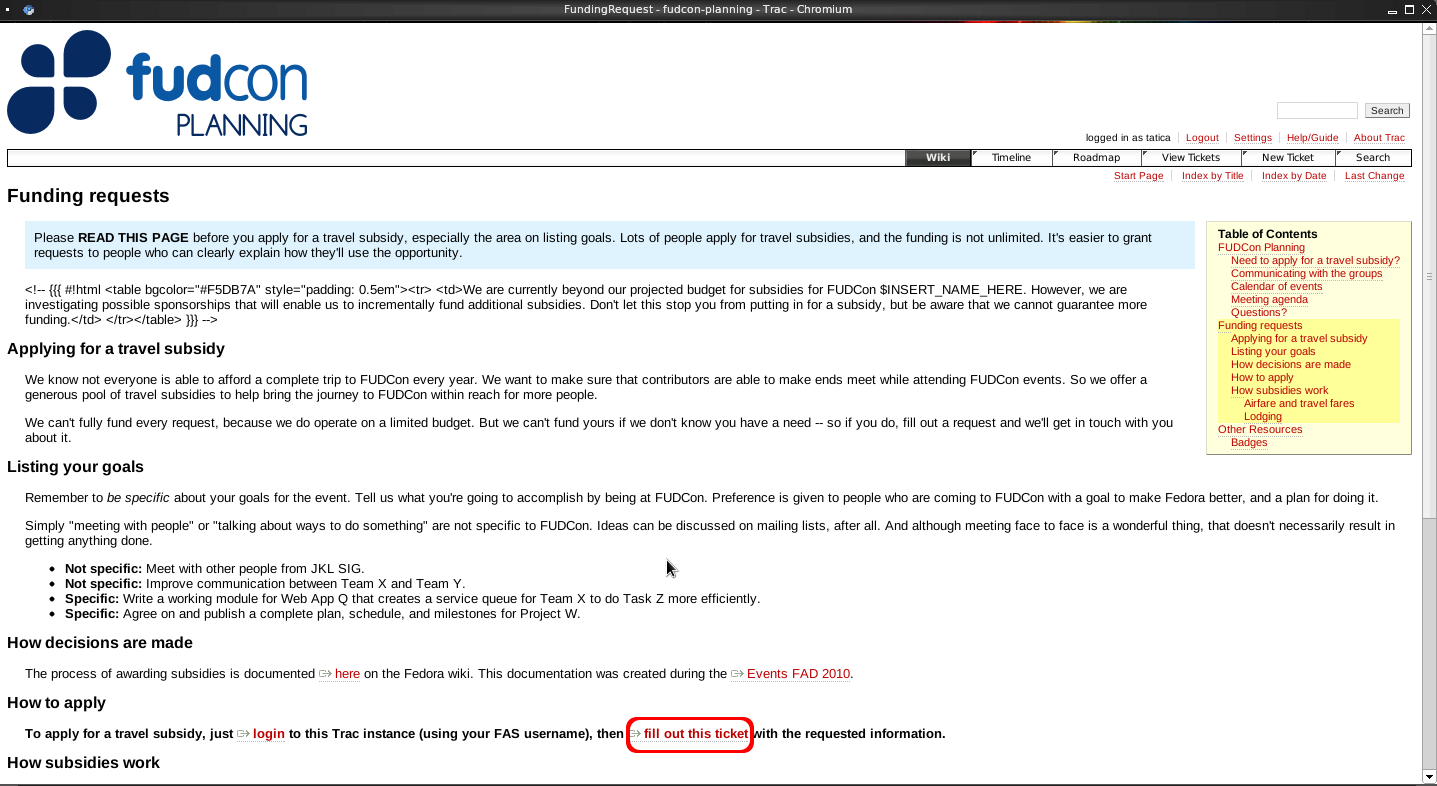 Paso 3: Llenando el ticket. Ahora iremos pregunta por pregunta. Si no sabes hablar inglés coloca el ticket en español, pero agrega al principio del ticket (this ticket needs translation) y alguno de nosotros se encargará de ello
* Titulo (Short summary:) Funding request for TU_NOMBRE_AQUI
Ejemplo: Funding request for Maria "tatica" Leandro
* Descripción completa (Full description)
Ahora viene el contenido, y estas son las preguntas a responder:
* What do you need covered? (Please estimate the costs in USD: hotel $X, travel $Y)
(qué necesitas que te sea patrocinado? indicando el precio en $$ de preferencia, tanto de hotel, como de viaje o cualquier otro gasto)
* If we cannot provide a full subsidy, will a partial subsidy be helpful? (Yes/No)
(Si no podemos ayudarte con todo lo que pides y solo podemos cubrir parte de los gastos, sería aún útil el patrocinio; Por ejemplo, si solo se te puede costear el hospedaje O el pasaje, aún podrías pagar tu mismo pate de los gastos)
* If Yes can you specify the minimum amount you would need covered to facilitate your attendance
(Si contestaste si a la anterior, especifíca la mínima cantidad de $$ que necesitarías que te sean patrocinados para poder asistir al evento)
* What will you accomplish by being at FUDCon? (Please be as specific as possible, since this is the most important factor in granting requests.)
(Cuales metas lograrás al asistir al FUDcon? aquí debes ser lo más específico posible, ya que esto marcará la diferencia ente una respuesta positiva o negativa; recuerda que la meritocracia cuenta pero esta en ti contarnos que puedes lograr)
* If you are requesting airfare, include complete flight information such as flight numbers, desired departure and arrival airports, and times. Also let us know if you have specific time restrictions.
(En caso de que necesites un pasaje aereo, has una investigación previa de las aerolineas e itinerarios y colocalos acá. Así mismo, si tienes restricciones de horarios, o deseas que se conozca una particular serie de restricciones, mencionalas en esta sección)
* Do you need a visa or other official processing before you can attend FUDCon? If so, approximately how long does that processing take?
(Si necesitas una visa o cualquier otro papel legal, debes notificarlo; así como el tiempo que demora. Si no necesitas ninguno, solo agrega No en esta sección)
* Include any additional, relevant information.
(Incluye cualquier información adicional que consideres pertinente)
a la final, solo indica "submit ticket (enviar ticket)" y listo.
Recuerda, los eventos están para que TU asistas, pero no podemos hacerlo sin tu ayuda. Animate y abre un ticket!!!
---
Help tatica and donate with paypal!