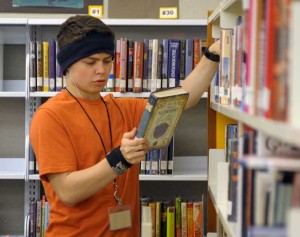 Siempre me he considerado una adicta a la buena literatura, desde novelas de terror o fantasía, de crímenes o viajes, e incluso documentales y fotolibros; en realidad la lectura es un hábito que todos deberíamos cultivar y mantener, más en esta era donde solo con leer el primer párrafo de wikipedia nos hace creer que sabemos todo.
Desde que @richzendy compró el Nook de Barnes&Noble, dejamos poco a poco de comprar libros en físico, a menos de que realmente valoremos su contenido, y optamos por ir a la versión de ebooks (mucho más económica), sin embargo, hay algo en el pasar de las hojas y en el olor de las mismas que le dicta a mi conciencia… mantén en tu biblioteca aquellos libros que de verdad vas a atesorar por mucho tiempo.
Es acá donde entra esta increíble saga que tengo leyendo durante más de un año, "Los secretos del inmortal Nicolás Flamel", creados por el escritor Michael Scott. Esta saga consta de 7 libros (publicados hasta el momento 6, pero solo 4 en español) que relata la historia de los hermanos gemelos Sophie y Josh Newman, quienes se adentran en un mundo de criaturas mitológicas, seres del pasado y conspiraciones mágicas lideradas por el Inmortal, Nicolás Flamel y su esposa la hechicera Perenelle Flamel, quienes intentan evitar que el Necromancer Dr. John Dee traiga al mundo a los oscuros inmemoriales.
No obstante, puede parecer un cuento más o un libro para niños, sin embargo no lo es. Para quienes gustan de la historia del mundo, disfrutarán ver como este escritor une todas las eras antiguas que conocemos (y las que creemos conocer) en un interesante manojo de experiencias y creaciones donde vampiros de miles de años con el look de jovencitas de 17 como Scatach, o guerreras como Juana de Arco viven entre nosotros, demostrándonos que no estamos solos. Así mismo, para los amantes del excesivo detallismo, verán como en este libro, cosas simples como buscar en Google o un rington de los expedientes X salen a relucir.
En fin, si están en la búsqueda de un buen libro para leer en sus próximos viajes de navidad o simplemente hacer un buen regalo, les recomiendo que adquieran este libro (o lo descarguen, como gusten) usualmente pago por los libros que me gustan mucho, aunque ya los haya leído digitalmente, es una forma de dar un granito de arena al intelecto de quienes nos alegran con sus letras plasmadas en papel :)
A continuación, les dejo el link de descarga a los libros que ya están disponibles, con el link a la descarga gratuita o la compra de Amazon, para las descargas, la clave del archivo comprimido es riotstrike
Ahora bien, para cerrar este artículo con broche de oro, les comento que luego de muchos rumores, y sobre todo por la compra de Warner de la antigua cadena de filmes que iba a llevar esta saga al cine, Warner y Michael Scott llegaron a un acuerdo para realizar el film. El elenco aún no está confirmado, sin embargo varios entusiastas nos dimos a la tarea de crear nuestra lista de elenco soñada… y yo como buena fan no me podía quedar atrás :D
---
Help tatica and donate with paypal!